vibe.com
I recently finished binge watching two seasons of
"Orange Is The New Black"
for 2 days non-stop. Since it may take a while before they finish filming season 3 I just focused my energy to write this on my blog. If you haven't watch OITNB spoiler alert I shared some of my favorite scenes here.
Here is my top 10 favorite characters from the Emmy nominated series "Orange Is The New Black". I ranked them based on how they gave life to the characters that they portray. Like after 10 years when you asked me about "Orange is the New Black" I would still recall them. Also, their character is so intriguing that I pause Netflix and Google /
Wikipedia
the characters to find out that they look completely different. I learn more about what other then I followed them on Instagram.
Two thumbs up for
Jenji Kohan
and Netflix for creating this amazing show.
10 Piper Chapman

I think she did great. She looks exactly the same like the real life Piper the author of the book "Orange is the New Black". Some people might disagree why she's on my number 10 list. I believe she is a good actress but if you replace her with other actress I would still be watching OITNB.
My favorite scene was after she was placed in isolation she learn to fight back and learn the ways of the prison. She was able to adapt to the conditions that she have. I liked when she made the chili oil for Red's back pain.
fanpop.com
Taylor Schilling -
She attended acting classes at Fordham University and New York University
She worked as a nanny while studying.
Webby Awards, Satellite Awards - Best Actress for Orange is the New Black
Hollywood Film Festival Award - Cast - Argo
stylebistro.com

9. Poussey Washington
I think she is smart and she stand on her principles. She was able to convince her friends to stand-up against Vee and stop doing illegal drugs. She saved the books in the library during flood.
fashionstyle.com



Samira Wiley
- studied at Jiulliard School in New York
- practiced the lines with Danniele Brooks also graduate of Jiulliard for the role of Poussey
- Her father is Baptist Minister from Washington, DC
out.com

8. Lorna Morello

Her accent was amazing even critics noticed her Brooklyn / Boston accent. I love the scene when she went to his ex boyfriend's house and try the wedding dress of her ex boyfriend's fiance. I also like the scene when she let Rosa escape the prison.
ibtimes.com


Yael Stone
- Australian movie and theater actress
- moved to New York four months before she was cast in Orange is the New Black
madameni.com
7. Yoga Jones

I love Yoga Jones. I feel like her character fits her very well. Her eyes are so expressive. I hope they would show more of her back story.
idigitaltimes.com
Constance Shulman - voice of the cartoon charter Patti Mayonaise from "Doug"
- theater and TV and movie actress
zimbio.com

6. Daya - Dayanara Diaz

I liked her back story how she took care of her sisters when her mother was too "busy" with her boyfriend. I didn't like it when she have to use Pornstashe to clear her boyfriend's name. But, well we did some crazy things for love.
vulture.com





Dasha Polanco
- Psychology Degree from Hunter College ( I'm also from Hunter! )
- Born in Domican Republic, raised in Brookyn and Florida, has 2 kids
rebloggy.com
5. "Tastee" - Tasha Jefferson
Favorite Scenes - S
he came back to prison because life outside was worse than prison. I remember my students who went to foster care like her. I also liked the scene when she compete for the "Dress for Success" program.
Favorite Lines
-
I can't watch no more Toddler in Tiaras. I can't support sexuation of baby girls.
blackfilm.com
Danielle Brooks -
Studied drama at Juilliard School
- She will be cast in the series "Girls".
rebloggy.com
4. "Pennsatucky" Tiffany Doggett
I love Pennsatucky's character perfect mix of scary and funny. I like the scene when she was carrying the cross.
Favorite Lines
:
"I'm angel of God, I mean look at my dress". "It wasn't my fault. I was just doing what the spirit commanded."

fuzzyundertones.com
Taryn Manning
- fashion designer, singer-song writer
- first known from movie Crazy/Beautiful
- related to football star Eli Manning

3. "Red" - Galina Resnikov
I love her thick Russian accent accent. I live in a Russian community. I can relate to the scenes from her back story. When Piper got furlough she request to come and visit her shop in Sheepshead Bay in Brookyn. That was so close to where I live.

Famous Line: "
All I wanted to eat the chicken that is smarter than any other chickens and to absorb its power!"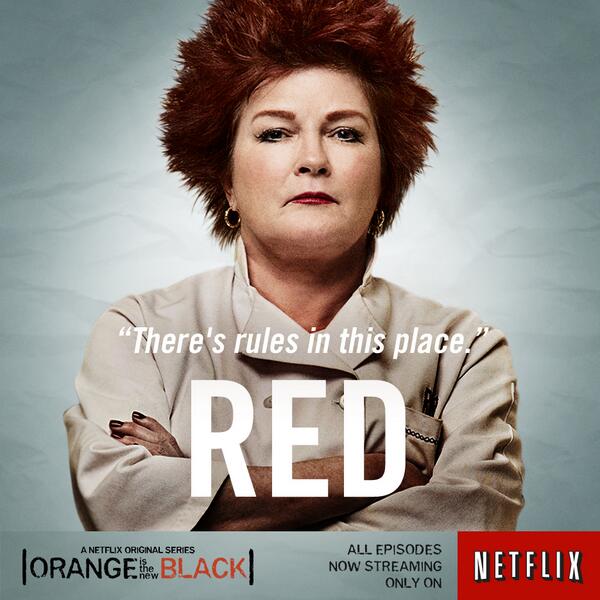 twitter.com




Kate Mulgrew
- played Captain Katryn Janeway in Startrek: The Voyager
- had acting scholarship at New York University
- advocate and active member of Alzhiemer's Associatioin
- won acting awards in Broadway and Emmy nominations
www.totallykate.com
blastr.com
2. Sophia Burset
I love her back story when her wife helped her fit some dress and pleaded that she shouldn't do the surgery. I liked the actress that played as her wife and his twin brother who played the pre-surgery Sophia. I can feel that she really loved her wife but she stands with her decision to live as a woman. I respect her for that. Then she gave her wife the freedom to fall in love with other guy.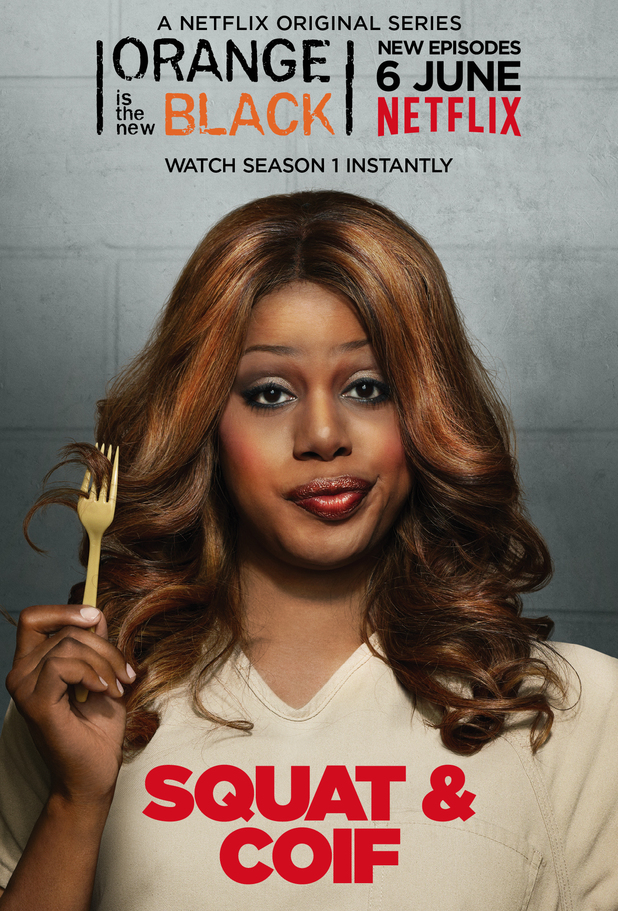 digitalspy.com







Laverne Cox-
Produced reality show and documentary "Free CeCe"
-Advocates for the rights of Transgender
-Fine Arts Degree from Marymount Manhattan College
-Wrote articles for The Huffington Post
www.laverncox.com


1. "Crazy Eyes" - Suzzane Warren
I love her so much I cried when she delivered her speech at Emmy's. I can feel her passion and dedication in her character. I love her back story how her adopted family love her and made the best effort to give the same opportunities like their own child.
My Favorite Lines
"I throw my pie for you!"
"Chocolate and Vanilla Swirl, Swirl"
"I'm a garden rose."
galleryhip.com

Uzu Aduba
- Attended Boston University - Classical Voice and compete in Track and Field
Winner: Primetime Emmy Award for Outstanding Guest Actress in a Comedy Series
Critics Choice Television Award for Best Guest Performer in a Comedy Series
contactmusic.com
Do you agree with my Top 10?
Who is your favorite character?
I can't wait for Season 3